Discover more from Their Music is My Life
Stories from a playlist of my life's greatest hits.
I love a song that fucking gallops.
When I hear the first few chords of this song, I picture myself throwing my left leg over the horse and sliding my boot into the stirrup. I look out into the distance, a knowing smile appears on my face, and I pat the horse on the side of the neck. Nine seconds in, I grab the reigns and give them a snap, the drums kick in, and Thunder Hoof (that's the horse I'm riding) and I start to run.
We pick up speed, and Thunder Hoof's legs start pumping like freshly greased pistons. We're hell-bent on the horizon with the wind at our backs and soaking up energy from the sun's rays. At one minute sixteen seconds, it's double-time on the drums, and Thunder Hoof is in full fucking gallop.
I hear a woman's voice. I'm startled! I look behind me. Sheryl Crowe is riding side-saddle, wind in her hair, and she is singing harmony through the shit-eating grin on her face. I tip my hat and give a wink. She wraps her arms tight around my waist as I give another hard snap of the reigns. I lean in and whisper into Thunder Hoof's ear, "don't you want to be happy?" Thunder Hoof lets out a wild neigh! Then he gallops. Oh, does he fucking gallop. Harder. Harder. Horizon here we come.
---
That's ridiculous. I don't ride horses. Some people enjoy riding horses. I don't. In fact, I don't believe I have any business sitting on a horse, let alone galloping on one at top speed toward the horizon.
But that's exactly how this song makes me feel.
Every time I hear it, I want to gallop. I want to fly like the goddamned wind toward a better place. I want to leave the noise and the negativity that swirls around us daily in my dust. And my pretend horse, Thunder Hoof, never gets tired. He just rides and rides. And we give off positive energy where ever we go.
It's Lukas Nelson's fault. Yes, he of the Willie of Nelsons. Lukas and his bandmates, the Promise of the Real, recorded "Turn Off The News (Build a Garden)"1 as the title track of their 2019 album. This song is a bit cornpone. It's cosmic cowboy, hippie heritage, collective conscious flavored chicken soup for the soul stuff. And I love it.
🎵 Turn off the news and build a garden
Just my neighbourhood and me
We might feel a bit less heardened
We might feel a bit more free 🎵
Pretty straightforward, eh? It's not whirlwind, thin wild mercury lyrics, but it's not trying to be, either. Simple song. Simple message. It's anthemic and metaphorically righteous. And it fucking gallops.
---
The news/noise started in 2015 when we (my wife and I) moved back to America after living abroad for ten years. We had been away for so long that we forgot how noisy the US media, in all its forms, could be. When we moved out of America in February 2005, there was no iPhone. There was no Twitter. There was no YouTube. Myspace was dying. Facebook was less than a year old. Instagram, Snapchat, WeChat, and WhatsApp - were still five or so years out.
By the time we got back, the whole shithouse went up in flames.
We returned just in time for the start 2016 presidential campaign run.
Whoah, now! This is not going to devolve into a political diatribe. Let's keep things civil. This is about the media and the "bad news is good (for the) news" mentality in which the collective operates.
The media is the ultimate ambulance chaser. It loves a tragedy. It loves a spectacle. It loves a pig pile. And the 2016 campaign was all of the above. When we moved back, I had to buy a TV. It was one of the worst decisions I have ever made. Every time we turned it on, we had to brace for impact.
Turn off the news. Close the app. Don't scroll the feed. Kill your television. Don't be negative.
But that didn't stop us from watching it. We became zombified. With each click of the clicker, we rubbernecked every car crash that popped on the screen. From 2015 with the campaign coverage to the daily side-show pressers from the White House briefing room, the Twitter rants, the barking heads of breaking news, the Facebook feeds, the polar vortexes, the school shootings, the political take-downs, and cover-ups - it was relentless.
And then came COVID.
We all became shut-ins. And the only way to get out was through the internet and the TV. You couldn't escape the media in any form. Preachers and pushers on every channel and in every feed. Everything was breaking news, and everything was breaking down. Polarizing. Relentless. Deflating.
But it wasn't all bad.
Every year Willie and his Family put on the Luck Reunion.2
Luck Reunion is an experience-based collective based in Willie Nelson's backyard of "Luck, TX". Nearly 10 years ago [2013], a group of friends came together with a vision for a new kind of live music experience. We knew we wanted to honor the cross-section culture that has long motivated creative tradition; to preserve traditions in music, food, and craft; and to create a stage for modern-day outliers who are influenced by the legacies before us.
In 2020, the Luck Reunion was upended like everything else in the world. No fun in the sun for the freak flag flying Luck Reunion community. Willie and the team scrambled to put the entire event online. It became a pay-per-view. I paid to view it.
They had a bill full of superstars and up-and-comers. The acts were all locked down and broadcast live from where ever they were. Understandably the production had a lot of hair on it. But at the time, there was a lot of kumbaya, and everyone pulled together to make it happen. Spirits were as high as you know who.
Throughout the show, Willie and his boys, Lukas and Micah, would play tunes. In the clip above, they are playing "Turn Off The News (Build a Garden)." I had the album. But I had forgotten about the tune. It was a breath of clean air when I heard the Nelson clan playing it. It became my anti-COVID anthem.
Build a garden. Learn something new. Lend a hand. Love the one you're with. Be positive.
COVID impacted everyone in a personal way. Some got sick. Some died. Some went nuts. Some pulled through. Some got stoned. Some got strange. For some, it brought out the worst; for others, it amplified their best qualities. As stone-crazy as that period was, I did whatever I could to turn the global pity party into a positive experience in the Marcello bunker.
Once we realized that we were riding it out for the long haul, we had to reset our mindset. We were living in a 1,800-square-foot apartment in Chicago. Every day it felt like it shrank a few feet. As the walls closed in, I started to make some changes.
My mindset reset was all about positive energy.
I worked out each morning at 5.30am for at least an hour. Then I would get ready for the day by 7.00am. While getting ready, I repeatedly played "Turn Off The News (Build a Garden)" until done. Then I made breakfast for my daughter. I might have set a world record for the number of pancakes made in one year. Pancakes covered in fruit ("no syrup please, dad") at least five days a week. Coffee was always ready for my wife; if she was hungry, I made breakfast for her, too. We started every day at the kitchen table together as a family.
🎵I just wanna love you all I can
All these other thoughts have me confused
Now I don't need to try and understand
Maybe I'll get up, turn off the news  🎵
One morning I decided to write a note to my daughter on a post-it note with different colored sharpies. She thought it was cute. She took it over to the kitchen counter, reached up as high up as her five-year-old body could, and stuck the note on the cabinet door.
A tradition was started that still lives on today (in moderate form).
I started writing positive messages, drawing funny images, and creating daily family sayings on post-its. I would stick them on the table where my wife and daughter sat to eat. I stuck them to the mirrors in their bathrooms. I hid them in their shoes. I put them in the fridge on the milk carton, They were everywhere. They became happy surprises that popped up throughout the day. They loved finding them. They loved them so much that they collected them.
Every time they found a note, it went up on the kitchen cabinets. After several months, there were so many we ran out of room. Our entire kitchen was full of family love notes. It was a joy to walk in there throughout the day.
I didn't stop there. After the world opened up a bit, albeit with masks, our daughter could go back to school. We had to pack her a lunch and a couple of bags with snacks. For a year, I made her lunch every day. I put post-it notes inside her lunch box and decorated her lunch bags. She started her mornings with a positive message at the breakfast table, and the positive energy continued throughout her day at school. She knew her mom and dad were always with her, cheering her on.
🎵Turn off the news and raise the kids
Give them something to believe in
Teach them how to be good people
Give them hope that they can see
Hope that they can see 🎵
I would take pictures of the lunch box notes and snack bags each morning. I uploaded them to an iCloud photo album we shared with my wife's parents and my mom. It helped keep us all connected and spread positive energy to long-distance loved ones.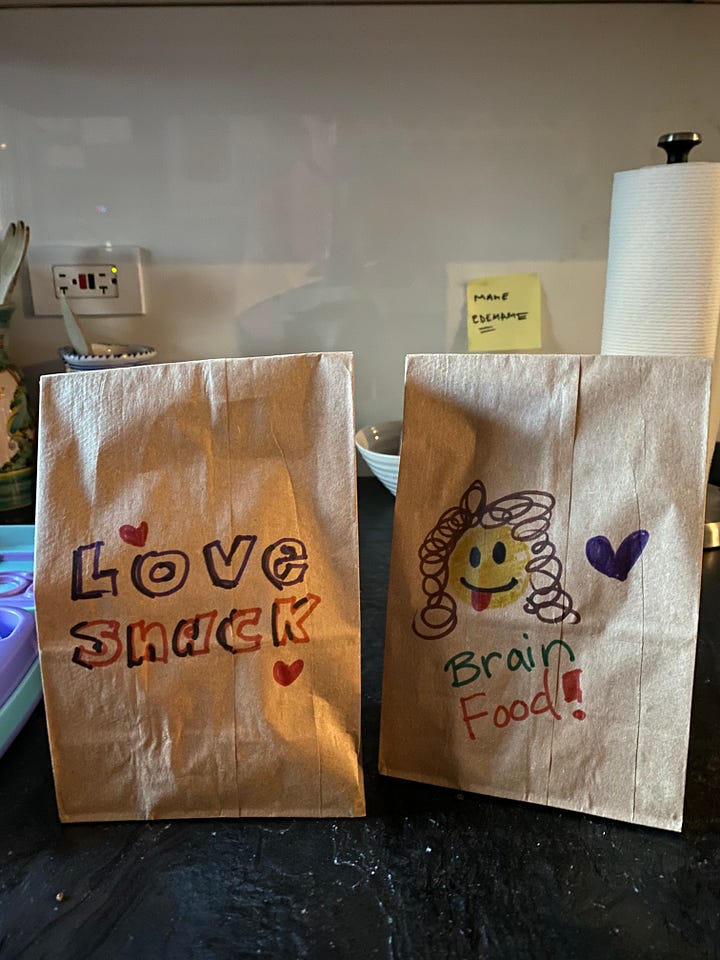 We turned the worst kind of negative into the best kind of positive. And we still have all the post-it notes to remind us of what really matters.
---
This entry isn't really about COVID or the media or being quarantined. It's about mindset. I've always had a positive mindset. I believe positive energy creates positive outcomes. As much as I think it is part of my DNA, I also think a positive mindset is a choice. It's easy to fall into the booby trap of a negative mindset. Misery may love company, but misery isn't company that people love to keep.
Choosing to live with a positive mindset doesn't mean everything is rosy all the time, and you operate with blind optimism. It means you always look to find the positive in any situation. In doing so, you create positive energy that you feed off of - and others feel it and feed off of you. Positive energy. Positive impact. Positive outcomes.
Funny. It's Saturday night as I write this. I have "Turn off the News (Build a Garden)" playing on repeat. I usually play the song I'm writing about on repeat. I took my fingers off the keyboard to collect my thoughts. I was staring straight ahead at the wall for a few minutes, eyes glazed - until I realized what I was staring at.
An outlet.
A power outlet.
Energy.
Positive energy.
I am an outlet.
That's what I thought to myself. I am an outlet. I am a source of positive energy that people can feed off of. People plug in and take positive energy from me. The more I give, the more they take. The more people that take, the more people I can impact in a positive way.
Cornpone? Maybe. But I'm into it.
🎵Trust builds trust
All that negativity's a bust
Trust builds trust
Don't you wanna be happy? 🎵
Hell yes.
Turn off, plug in, and fucking gallop.
Let's ride, Thunder Hoof!
---
POSTSCRIPT
Lukas Nelson and The Promise of the Real.
Did you know that The Promise of the Real is named after a lyric from a Neil song?
Ooh baby, that's hard to change
I can't tell them how to feel
Some get stoned, some get strange
Sooner or later it all gets real
---
Speaking of Neil and the Real, here they are in France in 2016 doing a thunderous and ragged version of "Cowgirl in the Sand." These guys were made for each other.
---
Take a moment to watch Lukas and POTR cover one of my fave rave Tom Waits songs, "Come on Up to the House," - and the CSN classic, "Carry On." These dudes are talented. Follow them.
---
If you aren't familiar with Lukas Nelson and Promise of The Real's catalog - get on it! Here are five tunes to start with:
---
Luck Reunion takes place on Willie's property. It's cool. Check it out.3
Built in 1985 as the backdrop for the film "Red Headed Stranger", Luck, TX is an old west town located in Willie Nelson's backyard on the outskirts of Austin. The journey to Luck started in 1979 when Willie and his dear friend Bill Wittliff set out to make a film version of Willie's concept album of the same name. While the original screenplay ended with the town burning down, Nelson had grown attached to the set and called for a change in order to preserve the property. The star built his own home on the sprawling land, just a short drive up the road from the set, and Luck, Texas was born.
Beyond its fading facades, Luck became a longtime gathering place for Willie and his contemporaries to come together to shoot the shit and inspire one another through song; a sort of scaled-down extension of anti-scene Austin landmarks like Armadillo World Headquarters and Austin Opry House.
Join me in celebrating the inseparable connection between life + music.
1
This was the song that inspired the Their Music is My Life playlist. I started it during the pandemic while on lockdown.
2
https://luckpresents.com/about-luck
3
https://luckpresents.com/about-luck