Discover more from Their Music is My Life
Stories from a playlist of my life's greatest hits.
In Order to Grow, You've Got to Go
Cop cars, jet airliners, and Paul Pena's travelogue songs of life-changing decisions
Paul Pena w/the T-Bone Walker Band, Montreux Jazz Festival, Switzerland, 05/17/72
photographer: Hans Ekestang
---
The first time I heard a Paul Pena song was on the radio while driving. What I heard blew me away enough that I had to pull over to focus on listening to it. I was so excited about the song that I never noticed the flashing blue lights in my rearview mirror.
This was back in 2000 when I listened to terrestrial radio while driving. I was coming out of New Hampshire on I-93 South into Boston, where I lived. I was listening to a Boston station called The River. That would be 92.7 on your radio dial for all you oldsters. The River held the third position on my presents. My go-to stations were WBCN and WZLX. Occasionally, The River would play deep-cut tracks, and I listened, hoping to be surprised. And then Paul Pena came on the radio.
The song was "Gonna Move." Oh, it moved all right. It moved me right to the side of the road. It burst out of my speakers and hit me with a full-body energy jolt that shot straight down my leg to my right foot. The song took me over, and I was long gone in a hurry. The state trooper said I was doing 85 in 65.
Give it a listen. Your right foot will feel anxious, too. I was so into the tune, and the volume was up so loud that I didn't realize I was speeding or that the cop was playing his own music with his siren. I had to laugh when I looked in the review mirror and saw him on my tail. He got out of his car, walked up to the window, and asked me what the deal was. I told him the truth. I had just heard this song on the radio and got caught up in it.
The truth hurts, man. I was out a few hundred bucks and had a couple of points added to my license, but I also found a favorite new artist. Actually, Paul Pena was anything but a new artist.
New Train had juice. The album also had one notable and recognizable song, "Jet Airliner." Yes, the Steve Miller song was actually written by Paul Pena.
"Gonna Move" is the first cut-off of Paul Pena's second album, New Train. The album was recorded in 1972 but wasn't released until 2000. Yep, same old story. A dispute with a record label, a crooked contract, and weak management led to the album and Pena's career being shelved for almost three decades.
That was why I heard the song for the first time that day. That was why it felt so fresh, but it had such a classic sound. It was birthed out of a time capsule right into the front seat of my car. When the cop was done finger-wagging and gave me the ticket, I drove straight to Tower Records to look for anything from Pena I could find.
New Train was released on CD in 2000. I have a copy. You can't find it on streaming services today. Amazon is selling one for $114. You may not want to pay that much for it, but it's worth it. There's a full version on YouTube. Pour a beverage and listen to it start to stop. You'll get it.
When it came out in 2000, it was a critic's darling. It's one of those unheard 1970s buried treasure gems you hope to unearth while flipping through dusty record bins. It provided new revelations about Pena's legacy. He played with T-Bone Walker, B.B. King, Muddy, and John Lee Hooker. He played at the Newport Folk Festival in 1969 with Joni Mitchell and Kris Kristofferson. He could play a dozen instruments and about as many styles of music. He was below the radar and on the scene at the same time.
New Train had juice, too. Jerry Garcia and Merl Saunders played on it (listen to Pena call out to Jerry during "Venutian Lady"). The album was recorded on Albert Grossman's Bearsville Records. Yes, that Albert Grossman - see "record label dispute" above. It had killer R&B, county tinges, gospel flourishes, and Jimi-inspired guitar work. Paul's main contributions were songwriting, guitar, his soulful, gravelly baritone, and a whole lot of feel. The album also had one notable and recognizable song, "Jet Airliner." Yes, the Steve Miller song was actually written by Pena.
You're probably familiar with Miller's version and have never heard Pena's. Give both a listen and notice the difference in the groove and the lyrics. Pena's version chugs and is funky as shit. I can't listen to Miller's version after hearing Pena's. Miller's sounds slicker and rushed in comparison. If it was more radio-friendly, so be it. Pena's primary source of income later in life was royalties from Miller's version.
About those lyrics. Miller's read like a song about life on the road for a musician. Pena's read like a person on the brink of a make-or-break life moment. Pena's lyrics are much darker and deeply personal. His song is about as existential as they come. He was taking a leap of faith from the east coast to the west. Remember that he was writing in the early 1970s. Many people made the trip - the physical and the head - to California to find themselves during that time.
Check out the first two verses from each version:
Steve Miller's lyrical take on "Jet Airliner."
Leavin' home, out on the road

I've been down before

Ridin' along in this big ol' jet plane

I've been thinkin' about my home

But my love light seems so far away

And I feel like it's all been done

Somebody's tryin' to make me stay

You know I've got to be movin' on
Oh, oh big ol' jet airliner

Don't carry me too far away

Oh, oh big ol' jet airliner

'Cause it's here that I've got to stay
Goodbye to all my friends at home

Goodbye to people I've trusted

I've got to go out and make my way

I might get rich you know I might bet busted

But my heart keeps calling me backwards

As I get on the 707

Ridin' high I got tears in my eyes

You know you got to go through hell

Before you get to heaven
Paul Pena's original lyrics.
In seat forty-two, just about to go insane

I've been down before

Riding along in this big jet plane

I've been thinking about jumping out the door

'Cause my homeland is so far away

And I feel like it's all been done

Somebody's trying to make me stay

And I've got to be on the run
Oh, big old jet airliner

Don't carry me too far away

Oh, big old jet airliner

'Cause it's here that I've got to stay
I've been sitting by the fireside

Wondering where my strength is going

Looking through the mirror of life

Trying to find out which way the wind's blowing

But my heart keeps pushing me backwards

As I jump aboard that 747

Riding high but with a tear in my eye

You got to go through hell before you get to heaven
Whew. Pena's original take was honest about where his head was at - the intersection of confused and compelled. He's on the ropes. Should he go? His heart is saying stay, and his mind is saying go. Someone wants him to say. He feels he needs to leave. Get on the plane? Jump out the door? He's looking for answers. There is only one place to find them - always only one place. In the Big Mirror of Life, baby. You got to pay the cost to be the boss - of yourself.
Most of his songs detail his internal, coming-of-age struggles. Some of those songs felt like travelogues through his decision making process.
From the outside in, Pena had a rough go in his early life. I am not a Pena scholar. If you want to know more about him, hit his website or Wikipedia page. I'll give you the cliff notes version of his past from Wikipedia.
Pena was born in Hyannis, Massachusetts. His grandparents were from the islands of Brava and Fogo in the Cape Verde islands off the western coast of Africa and emigrated to the United States in 1919. His grandfather and father were professional musicians and taught Paul to play Cape Verdean music. Pena was born with congenital glaucoma. He attended the Perkins School for the Blind in Watertown, Massachusetts, from age five and graduated in 1967. He then attended Clark University in Worcester, Massachusetts. Pena was completely blind by the time he was 20. In 1971 he moved to San Francisco to start his music career.

Later in life, he was severely injured after his bedroom caught fire. He suffered from smoke inhalation and was in a coma for four days. He also had diabetes, waged a long battle with pancreatic illness, and was initially misdiagnosed with pancreatic cancer. He began chemotherapy treatments, and doctors gave him six months to live. In 2000 he was diagnosed correctly with pancreatitis, a life-threatening illness. Pena died in his San Francisco, California, apartment of complications from diabetes and pancreatitis on October 1, 2005.1
Most of his songs detail the internal, coming-of-age struggles. Some of those songs felt like travelogues through his decision making process. New Train is full of these "mirror of life" songs. But that is not the album or songs I want to discuss in this entry. I want to wax on the first cut from his self-titled debut from 1971.
---
There are a lot of songs that start by saying, "I woke up this morning." It's a great device to start a song. You could write a song every day using that approach. A good handful of famous blues songs start that way. Usually, the protagonist of those songs is singing about some back luck or trouble they woke up with, or that they woke to find that their woman had left them, or they woke up in the county jail. Good songs, but not every day has to start with a bad feeling.
I am not the kind of person that wakes up and says, "I wonder if today will be a good day?" I wake up and say, "how good is today going to be?!" I have always been this way. I am inspired by change and new experiences. I look at every day as an opportunity for each. It's why I've taken risks and been open to taking the big leaps into big life experiences. Every time I've taken the leap, I've gained a new perspective of what is possible and attainable. And then I want more. Bigger leaps into bigger experiences.
In 1990 I left home for college in northern New Hampshire. I couldn't wait to go. I craved more independence, not necessarily from my family, but as a developing individual. To be on my own, like a rolling stone2, was what my music heroes preached and acted out. I wanted to roll, too.
I felt the same when I graduated. Until then, I had never lived anywhere else except in New Hampshire. After college, I temporarily dropped stakes back in my hometown of Keene, N.H. I lived in my parent's house for a couple of months. I didn't want to, but I didn't have enough cash to get my own place.
I couldn't bear the idea of moving back into my boyhood bedroom, so I threw a mattress on our basement floor. Our basement was not the kind that you lounged in. It was dirty, dank, and cluttered with junk. Like the place I lived in during college. Home sweet home, indeed. Eventually, I got an apartment downtown. That lasted about nine months before I got itchy - time to roll.
I moved down to Newport, Rhode Island, for a few years. I was in my early twenties, single, and on my own for the first time. Then I moved back to New Hampshire, living in Nashua for a year or so. From there, I made my way down to Boston. While living in Boston3, I met my wife (a story for a future entry) and lived there until 2002, when we moved to Florida (again, stories for another day).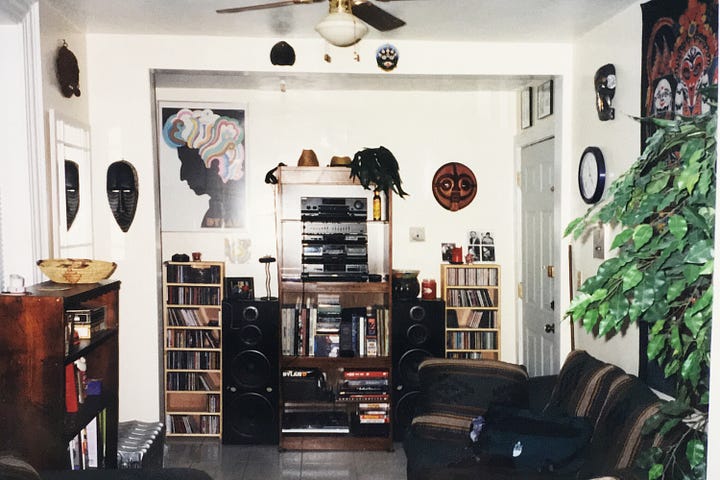 Boston is where I (metaphorically) met Paul Pena. I felt some kinship with him because of our New England roots. We both had stayed in the area but had an urge for going4. I didn't know how to express mine. Paul expressed his in song.
Like "Gonna Move" and "New Train," "Woke Up This Morning" is one of Pena's self-discovery, traveling-on songs. They were his catharsis. "Woke Up This Morning." was written and released before "Gonna Move." After listening to both, you can see that "Woke Up This Morning" was the prologue for "Gonna Move." Getting out and growing up was on his mind. He knew that to grow, he had to go. He had to believe in himself and put himself out there - exposed - and deal with it. I can't tell you if he had a plan, but his songs tell us he took the leap.
Hoped on a plane in Boston.

Thought I'd leave all my troubles behind.

Here three days later

Lying down here, and I woke up to find,

I'm still the same one with the same hang-ups and the same point of view.

Somehow it's different now 'cause I found a brand new land and place for something new to do.

I've tried for so long just to write me a song

People told me I'm wrong

But I knew I was right all along.
I woke up, too. I wanted to go. I had people close to me telling me not to stray too far. But I knew I needed to go. So I went. I was in a new place. I was still the same person, but it felt different. My worldview expanded. I had options. The world opened up, and I did too. It was confirmation. It was motivation - to keep going.
Maybe that is what Pena meant for himself in "Woke Up This Morning." It's certainly what I felt.
After Boston, my wife and I kept moving - for twenty-plus years. Florida, Australia, London, New York, Chicago, and Colorado. Every move brought that same feeling. Where can I go? What can I learn? How can I grow? How can I change?
My time in Boston was rewarding. I gained so much - independence, perspective, responsibilities - a wife.
It was great until the shine came off, and the itch returned - time to roll.
Man, did we roll.
I'll let Johnnie Allan, Neil Young, and Leon Russell tell you about that in future entries from the Their Music is My Life playlist.
---
POSTSCRIPT
Keep your notebooks open, kiddies. The College of Classic Rock Knowledge is still in session.
Want a little more Paul Pena? Sure you do.
After New Train was (finally) released, Pena went on a small tour. One of his stops was a set on the Conan O'Brien show. Watch this to see the man in action, extended guitar solo and all.
Another must-watch is the Tedeschi Trucks Band covering Pena's "Gonna Move." Derek takes flight at 3:48. The TTB band is my fave current live band. Wherever I live, when they pull through town, I am there. Susan covered this on one of her albums, too.
Trucks and his solo band covered a song from Pena's self-titled debut album, too.
Later in life, Pena discovered Tuva throat singing method in which two vocal cords are used simultaneously, producing a frog-like sound heard only in certain parts of the world. He's probably more known for this than the music I detailed in this entry. An award-winning documentary called Genghis Blues created some buzz for Tuvan throat singing. Should you watch it? Yeah, why not. I did and learned a lot about it and Paul. But it's no rock and roll show. Here is a sample below. You can hear how Paul weaves the blues into the thousands of years old tradition. Or maybe it's the other way around.
And for you Dead Heads, go directly to Jerry Town. Do not pass go. Do not collect $200. A kind veggie burrito will be waiting for you when you arrive. Check out Jerry on pedal steel and Merl Saunders on keyboards on Pena's "Venutian Lady."
Join me in celebrating the inseparable connection between life + music.
1
https://en.wikipedia.org/wiki/Paul_Pena
2
https://www.bobdylan.com/songs/rolling-stone/
3
The images above are from my Boston apartment. It was in the basement at street/rat level. I had no TV, only a stereo. The fake plants were a nice touch. It had two small windows that led to a closed-off drainage area. If there were ever a fire, I would have died in there. Oh, wait - there was! That's a story for another time.
4
Yes, I am referencing the Joni song https://music.apple.com/us/album/urge-for-going/597229447?i=597229448