Discover more from Their Music is My Life
Stories from a playlist of my life's greatest hits.
Half-empty, back road beer joints. Fleabag motels on the outskirts of town. Bleary-eyed three a.m. highway runs across the state line to the next show. Ripped off by crooked promoters. Stolen equipment, broken hearts, and the occasional bullet lodged in your temple.
Life on the road for a working musician is a tough fucking gig.
---
In 2005 we moved to Sydney, Australia. My wife was offered a promotion, and it required a move. We had been married just about four years. We were living in Ft. Lauderdale, Florida. We were young, newly married, and having a lot of fun. We knew it was a turning point when the offer dropped in our lap. We were happy, but we knew there was work to do.
We took our tickets and got in line at the big crossroads of life. It's always busy there. It's the world's intersection. Get in line and wait; plenty of time to contemplate the next important decision in your life.
While waiting in line, we decided to watch TV to take our minds off the Big Decision. We tuned into a travel show that was counting down the top ten best cities in the world. They counted backward. Ten, nine, eight - you don't think - seven, six, five - couldn't be - four, three, two - holly shit - one, Sydney, Australia! Decision made. That TV show told us to take the road leading south to the ass-end of the world for the next five years.
I quit my job when we moved. Instead of looking for a new gig immediately, I decided to return to school. I signed up for a full-time MBA. It was an intense course. Five days a week, ten hours a day, twelve months straight. I never thought I would go back to school for an MBA. The experience pushed me to my edges. It wasn't easy. But I learned a lot about myself - what I was great at and not so good at. Graduating was one of my most rewarding accomplishments to date. But breaking through that barrier only made me wonder what else I was capable of. There was work to do.
We both were fans of the blues, americana, and soul music. We loved all the music that came out of Memphis in the 60s and 70s. Todd one-upped me, though. He was from Memphis.
There were only twenty people in my cohort for the MBA. I was the only American. That was refreshing. Everyone else was from somewhere else. We had representation from Australia, London, Malaysia, Mexico, Spain, Italy, India, Germany, France, Sweeden, and New Zealand. Class assignments involved mostly group work. The group I usually worked in had a Yank (me), an Aussie, an Indian, a Mexican, and a Spaniard. Five different cultures. Five different business cultures with wildly different styles of working. That was an education in itself.
There was a cohort that started a year before us. When they were concluding their term, we started ours. In that cohort was another American, Todd. Todd and I were the same age, in our thirties, but we were wise old music souls. We connected not just because we were both Americans but because we were both huge music fans and loved the same styles of music. We both were fans of the blues, americana and soul music. We loved all the music that came out of Memphis in the 60s and 70s. Todd one-upped me, though. He was from Memphis.
After graduating, Todd stuck around in Sydney for another six months or so. Before leaving, he told me stories about growing up surrounded by some of America's richest and most righteous music history. He talked about Graceland, Stax Records, Ardent Studios, American Studios, Sun Records, Sam Phillips Recording Studio, and all of the living legends and fabled ghosts that sauntered up and down Beale Street at any given time of the day or night.
I ate it up.
When Todd left for the States in 2007, he promised that if I made it to Memphis, he'd give me the grand tour, insider's style. The last time I talked to Todd was in 2013, the year he died.
Todd had been planning to get married in 2013. By then, my wife and I had moved to London. Todd invited us to his wedding in Memphis. We were planning to go. He said to come early. He already had our insider's tour planned. I was excited. I had never been to Memphis. My pilgrimage was canceled. So was the wedding. So was Todd. I never truly found out what happened to him. He died too soon. He had work to do.
---
It was 1985, and twenty-eight-year-old Marc Cohn had a serious case of writer's block, and I'm-never-gonna-make-it-blues. As he tells it…
One night while listening to all of my demos, I came to the realization that I shouldn't be signed, because I didn't have any great songs yet. I was 28 years old and not in love with my songs. James Taylor had written "Fire and Rain" when he was 18, and Jackson Browne wrote "These Days"when he was only 17. I thought: 'I'm already ten years older than these geniuses. It's never going to happen for me.' So it was a pretty desperate time, and I went to Memphis with that struggle at the forefront of my mind.1
Marc2 made his Memphis pilgrimage soon after. He had never been. He went to be inspired. He needed a spark. He was in search of mojo. He went to the right place. He took in a sermon by the Reverand Al Green (yes, that Al Green). He went to Graceland. He visited Sun Records and Stax. He crossed the bridge into Mississippi and went to juke joints and clubs. He walked in the footsteps of legends throughout the streets of Memphis - ingesting.
Is it really that simple? Can you really manifest something in such a literal fashion? Marc did. In 1991 he released his signature song, "Walking in Memphis." It went to #13 on the charts and was nominated for 1992 song of the year but lost. Marc won the Grammy for best new artist. His signature, autobiographical song carved his name into music history's tablets. That song will endure. Great songs can live forever. They keep giving. They have work to do.
I am a glass-half-full person all the way. The work is about filling that damn glass up to the rim.
Marc went on to release more albums and more songs, but none reached the status of "Memphis." Most artists keep holding that bottle as high up in the sky as they can reach, but only a scarce few can catch the lightning a second time. What did Bob Say? The only thing he could do was to "keep on keepin' on"?3 That's what Marc did.
Of course, he did. He had work to do.
He released records. He toured behind them. He released records. He toured behind them. That's what you do as a touring musician. As famous as Marc is for "Memphis," he might be more famous for the bullet he took to the head while on tour.
Marc was still out on the road fourteen years after "Memphis" was released. In 2005, he and his band pulled their van into Denver, CO. After the gig, the band was in a parking garage packing up and getting ready to head to the hotel. As they were pulling out, a carjacker lurking in the shadows fired a single gunshot into the windshield of the van. The bullet grazed the driver, Marc's tour manager, and rocketed into the backseat.
The bullet's final resting spot was inside Marc's skull, lodged in his right temple. The bullet was removed, and Marc was released from the hospital the next day. The police spokesperson said the bullet appeared to have been slowed by the van's windshield and by first grazing the vehicle's driver. He then exclaimed, "frankly, I can't tell you how he survived."
Neither can Marc.
Dumb luck? Divine intervention? Fate? How do you deal with something like that? We can only reconcile it and determine how to use it. Marc decided to keep making music. He had work to do.
Around this time the shadows are tall

When the moon's on the rise and the writing's on the wall.

I think of my friends gone without a trace

And I wonder why I'm still walking around this place.

And maybe I still have work to do,

Still have work to do,

After everything that I've been through

Maybe I still have work to do

I still have work to do
In 2019, Marc teamed up with the legendary Blind Boys of Alabama to release the album Work to Do. The lyrics above are from the title song. The message is from a bullet.
There's always work to do. We, humans, are a work in progress. You don't need to move to the other side of the world, lament the death of a friend gone too soon, or take a bullet to the head and live to write a song about it to motivate you to progress in life. It's innate in us. We grow, we achieve, we stumble and recover, we innovate, we survive, we challenge, and we move forward.
That is what this song is about for me. That is what the work is about for me. I am a glass-half-full person all the way. The work is about filling that damn glass up to the rim. I play this song to remind me that there is more for me to explore, figure out and accomplish in life. I've already done more than I ever expected to do back when I was a kid in my twenties. And as a man in his 50s, I know there is so much more I want to do - that I can do. But I'm going to have to work for it.
Maybe we still have work to do
Still have work to do
I just, I just keep on working
You might be asking, "what's the work?"
That's up for you, the individual, to define. Everyone has something they need to work on. And that's the beauty of it. The work isn't a competition with someone else. It's about you. It's about you looking out for yourself, looking after yourself, you looking to improve and propel yourself forward.
Maybe you do need a life moment to kick you in the ass to help you understand what work needs to be done. Or maybe you need to take another trip to the Big Mirror to look yourself in the eye. Whatever it is you need just remember what ol' Neil Young says, "rust never sleeps4" Rust is the enemy of the work.
Here is the real-deal thing about the work. The work is as much a constant as time. The progress of the work always needs to be a work in progress. You can can't sleep on the work. You can't sleep on yourself. You can't stagnate. Roll up the sleeves. Chop the wood. Do the reps.
Just keep on working.
---
POSTSCRIPT
Marc wrote a song, "Listening to Levon," that has a hard emotional tug on me. It's about one of my musical heroes, Levon Helm. I'll talk a lot more about him in future entries. But, for now, this song captures the feelings I have whenever I hear Levon sing. Goddamn, I love listening to Levon.
---
Right after Todd died, I connected with a couple of his close friends and traded notes with his fiance. They had a memorial/party for him. I didn't make it, but I sent a few things to the memorial to represent my friendship with Todd. I still have the short notes I wrote to accompany each of the mementos.
I sent a DVD of the movie embedded above. This is what I wrote:
"I am a blues fan. Todd and I found common ground with R.L. Burnside. I had never seen this documentary. Todd called me a fool for that. He was right. Todd was one of the best music loving friends I had. Always a good time when we played the blues.
I sent a vinyl copy of this album. Todd was a devout Townes fan. I didn't know a lot about him at that point. Todd schooled me all the way. This is what I wrote:
I barely knew who Townes was let alone the depth of his music and influence. In Sydney, Todd made a CD/playlist called "Todd's Townes." I still have it. I bought a turn table soon after that and he made promise I would buy Live at the Old Quarter. I did.
I hadn't heard of Peter Guralnick. Now I have read each of his books at least three times. He is my favorite music author. This book is the only book to read when it comes to the soul sounds of the south, particularly Memphis. This is what I wrote:
Shame on me, but I had never read any of Guralnick's books until Todd told me about him. I couldn't read this book fast enough. Then I read it again as soon as I was finished. Todd was right, I wouldn't be able to separate the city from the sounds after reading this.
---
Todd also turned me on to one of the coolest fucking bands that ever passed through our solar system - Big Star5. They exploded like a supernova, shimmered a bit, and then faded to black and into the lore of great bands that influenced everyone but were heard by hardly anyone. Their leader, Alex, and the rest of the band were from Memphis and recorded their debut, the ballsy-titled #1 Record, at Ardent Studios in Memphis. If you haven't been turned on, tune into their first album and the phenomenal documentary. Fuck, these guys were good.
---
In the song "Waking in Memphis," there is a line about a "pretty little thing (a woman) waiting for the king (Elvis) down in the Jungle Room. The Jungle Room is an actual room in Graceland. It's everything you want it to be: wall-to-wall green shag carpet, a working waterfall, funky wood-carved furniture, and 100% vibe. I took these photos in 2017.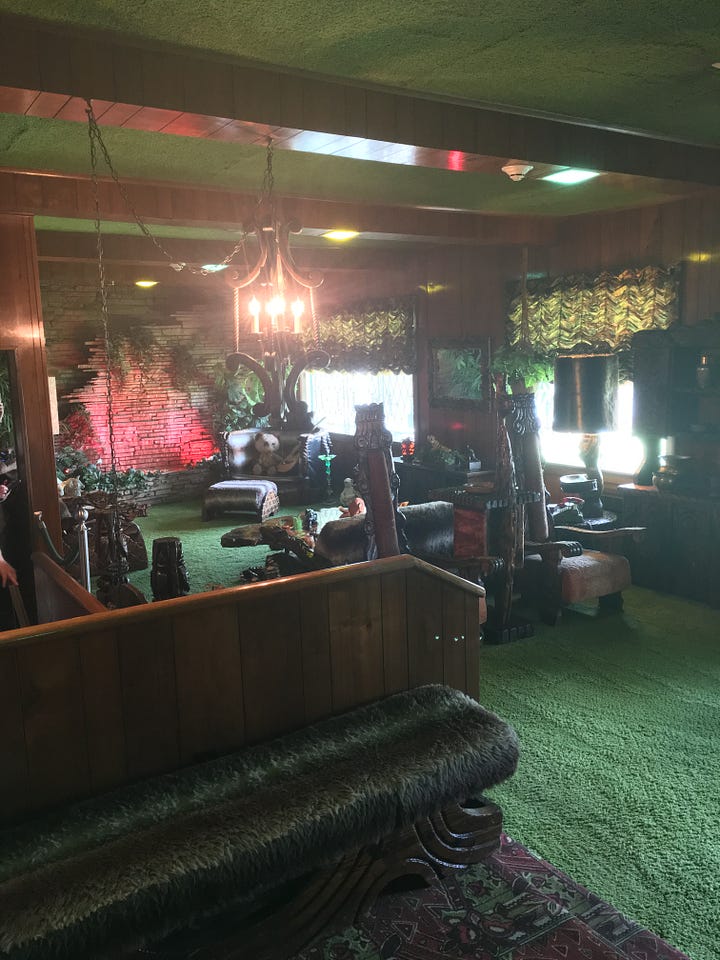 Join me in celebrating the inseparable connection between life + music.
1
https://en.wikipedia.org/wiki/Walking_in_Memphis
2
I don't know what is correct style-wise - to refer to people by their first name, last name, Mr., or Mrs. - but screw it. As far as I am concerned, I am on a first-name basis with all the musicians I love to listen to. Marc it is.
3
https://www.bobdylan.com/songs/tangled-blue/
4
Hat-tip to my good friend MB who never lets me forget that line. Thanks, Brother.