Discover more from Their Music is My Life
Stories from a playlist of my life's greatest hits.
The Rise and Fall of My Ups and Downs
The world runs on stories. Once upon a time, there was a singer named Robert Finley ...
Heroes and Villans.
White Hats and Black Hats.
Winners and Losers.
Those who kick ass and those that get their asses kicked.
The world's full of them. Every story's got one. Which side are you on?
The world runs on stories. Always has. The stories we tell others and the stories we tell ourselves.
What's the greatest story ever told? It's not what you probably think it is.
It's yours.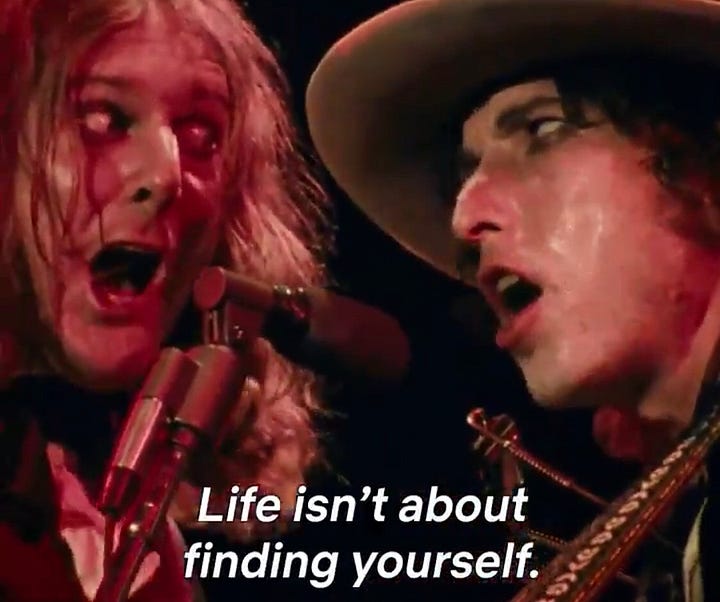 "Life isn't about finding yourself, it's about creating yourself. So live the life you imaged." - Henry David Thoreau
I stole those images from the Marty Scorsese documentary, "The Rolling Thunder Review: A Bob Dylan Story."1 Bob stole that point of view from Henry David Thoreau.  
It doesn't matter who said it first. What matters is who walks the talk. People have long sought to find themselves. Walkabouts. Pilgrimages. Ouija boards. Turning over rock after rock seems to be where people think they'll find their answers.  I've turned a few over and never found what I thought I was supposed to find.
The idea of creating yourself is akin to writing your own story. I'm into that. I'm doing that. That premise prompted me to create the Their Music is My Life playlist, and now, this rollicking manifesto on the way I've lived, seen, and continue to explore life. I talk, and I walk.
My story, your story, is non-fiction. Yes, people embellish, spin yarns, and stretch truths. You can find their stories in the fiction section. A life's story is not to be plagiarized, copped, or fabricated. It's to be lived and told in truths. Sure, you can get creative in how you tell your story, but please, dear readers and life-livers, keep it real at all times.
---
"One's greatest work is their own life." - Hunter S. Thompson
If you've been here since the start or just jumping on the wagon, the Their Music is My Life playlist is broken up into parts - the phases and stages of my life. It's a loose, linear chronology of my events, feelings, and happenings set to the music of some of my favorite tunes. Need to play catch up? Have a read of the first Phase and Stage, The Whim of the Great Magnet.
That was the setup. This is where it gets interesting.
Protagonist and antagonist. In our stories, we aren't on one side or the other. We are both. I believe you have to be. As the protagonist, you take the lead in creating your story. You write the script, act out the scene, and live happily ever after. Enter the antagonist. The antagonist trips you up, calls you out, and forces rewrites. In order to create yourself, you need to question yourself.
I've found that the best way to question myself is to keep putting myself in new situations. I talked a little bit about this in the Paul Pena entry, In order to grow, you've got to go. When I graduated from a New Hampshire college in 1994, I moved around New England for a few years, finally ending up in Boston in 1998. It was an important period in my life.
What started out as a mission to embrace my independence became a situation mired in isolation. I call this Phase and Stage of my story The Rise and Fall of My Ups and Downs. I had plenty of both, and they shaped my story in significant ways that I will share with you as we press play on each song.
As I said, this playlist is a loose chronology. The songs in this Phase and Stage are about a specific period, but they also have context for who I was/am and how I have felt in different periods of my life.
They are also shit-hot tunes that deserve to be played often and played loud.
The Rise and Fall of My Ups and Downs
The story I want to tell you now does not start in 1994, and it's not mine. It's Robert Finley's story, and it started in 1954, but we're picking it up in 2016 when he really started creating himself.
---
Robert Finely released his debut album in 2016, Age Don't Mean a Thing. Oh yeah, he meant what he said. He was 62 when it dropped. He was a fifty-one-year overnight sensation.
Robert Finley first picked up a guitar when he was eleven years old. He played in local gospel quartets and busked on the streets of his hometown Bernice, Louisiana. He picked cotton and served time. He wound up a helicopter technician in the US Army. While in the Army, he was stationed in Germany, and his company had a band where he acted as the guitarist and bandleader while they toured Europe.
After being discharged, he went back home to Louisiana. He found himself back busking on the street as well as working as a master carpenter. In 2015 he was deemed legally blind. No more carpentry. No more work. But that's not where his story ends.
🎵 I'm gonna tell my story
As long as the Lord allow
I know it won't make no difference
But I'm gonna tell it anyhow 🎵
That same year, a non-profit supporting aging blues musicians found him busking on the streets of Arkansas. They propped him up and put him on package tours. Robert Finley's story took a prosperous turn. He released that aforementioned debut album to critical acclaim.
Dan Auerbach2 of the Black Keys heard Robert play and signed him to his Easy Eye Sound label, and they released his second album in 2017, Goin' Platinum. Two years later, he made it to the semi-finals of America's Got Talent. The rise and fall of Robert's ups and downs were steep and deep. Between teaching himself the guitar and being judged on TV by Howie Mandel, a lot of life happened.
🎵 Cause if my mom and dad could see me
I know they'd be so proud
Looking down from heaven
And smiling on me now
Smiling on me now 🎵
Robert wrote that lyric in 2020, long after his parents passed away. The lyrics are from a song called "My Story" from Robert's 2021 album titled Sharecroppers Son. The album is as autobiographical as it gets, with song titles such as "Country Boy," "Make Me Feel Alright," "Starting to See," and "Country Child." He wrote all but one of the ten tracks on the set. Though not chosen as a single, the heartbeat of the album for me is "My Story." He has so much to be proud of - his parents, too.
🎵 You're never too young to dream
Never too old to live
Reach out and hug the ones you love
Cause it's never too late to give 🎵
Robert's story - the song and his actual story - are 100% pure inspiration. The lyrics above are the emotional centerpiece for both. The Antagonist is throwing curves all the time. It's trying to get under your skin, make you doubt yourself, turn tail and run. The Protagonist needs to stand their ground. They have to be smart enough to know there's something to learn from the Antagonist, and the job is to figure out what it is, apply it, and keep moving forward.
And, as Robert said, "You're never too old to live." I just turned fifty-one last Wednesday. That morning, I wrote this down in my journal: "Is today my fifty-first birthday, or is it the first birthday of the rest of my life?" It's the latter.
Call it an abundance mindset or optimism, but that is how I see things. I see the past as decision-making fodder for the future. I have done some dumb things in my life, nothing cataclysmic, but things where I've created problems for myself. But that is where my inner Protagonist steps in and starts calling shots. Robert's Protagonist is a strong force, too.
"Life's a funny thing. Nobody wants to get old, but nobody wants to die young either." - Keith Richards
You're never too young to dream. You're never too old to live. Some songs and some messages get lost in the ether. I didn't want this one to fall victim. It doesn't deserve it. Robert's story is his, not anyone else's. But, the way he has approached writing his own story is something we can adopt.
Never too young. Never too old. That is what I was thinking when I asked myself that question - my fifty-first birthday or the first birthday of the rest of my life. Maybe it's neither. Maybe it is a rebirthday. Hey, I kind of like that. A rebirth day. Either way, one of my core principles holds true: See the Big Picture. Keep Moving Forward.
And share what we learn.
🎵 We got to teach
Our children how to fly
So thеy can reach the stars in the sky
Causе there's one thing I know
That dreams do come true
That's why I tell my story
So you can start dreaming too 🎵
You need to listen to Robert's interviews or read about him. The video I shared above from America's Got Talent gives a glimpse of how he carries himself. He projects joy, optimism, and a genuine appreciation of the opportunity of the moment - the collection of moments that life is. His singing and his music project the same feeling.
In the lyric above, there is a "We are the World" do-it-for-the-children type message that could come off as trite. But, listen to Robert sing it. He means it. The entire song is a window we can peer into to see what kind of man he is. A giving man, someone who celebrates life and wants to help others do the same. When he sings, a door extends down the front of his torso from just under his chin to his waistline; he opens it wide and gives you his full heart and guts in every soulful note.
As I write this, I'm playing this song. My eight-year-old daughter is nearby making bracelets out of beads. She hears this lyric, unprompted, she says, "That man is telling me that if I dream what I want to do, I can do it." Thank you, Robert.
---
Your life's story is always being written, but it doesn't end when your life does. I talked about this in In the end, the only thing that will matter is everything. Your story is your legacy is your story. You are always in the process of self-making. Life is a force of perpetual motion. You're never too young. You're never too old. You are always in the moment. Always in motion. Forward motion.
When I think about others' rises and falls of their ups and downs, I think about my main inspirer3, Keith Richards. He was onboard with a 2016 documentary on him, "Under the Influence." I've watched it countless times. Throughout, he shares a lot of wisdom. There are three quotes from it that I think about often.
"Life's a funny thing. Nobody wants to get old, but nobody wants to die young either." - Keith Richards

"We age not by holding on to youth, but by letting ourselves grow and embracing whatever youthful parts remain." - Keith Richards
It's no wonder he called his autobiography, his story, "Life." There was nothing else he could have called it. Simple. Truthful. Harrowing, too. Talk about kicking ass and getting your assed kicked. Keith is the Alpha Protagonist/Antagonist. He lived his story on his own terms, warts and all, and put it on display for us to learn from.
Never too young. Never too old.
"I'm not getting older. I'm evolving. - Keith Richards
And so are our stories.
---
POSTSCRIPT
Can I get a few points for using quotes from Thoreau, Hunter, and Keith in the same post - and having it makes sense?
---
A few songs produced by Auerbach and Easy Eye.
---
A Must Watch
1
This is a great documentary. The words on the images are the subtitles of what Bob was saying. It's the kind you want to watch with a few friends and pass a jug of red wine and a joint around. You may need it to suspend disbelief a bit. It's told tongue and cheek, with fake characters talking about the tours and even ol' Bob chiming in with a few fabrications. It's like that Kris Kristofferson song, "He is a walking contradiction, partly truth, and partly fiction." A tall take, indeed.
2
Dan Auerbach is wildly successful as a member of the Black Keys, but his work as a producer for the artists on his Easy Eye Sound label is fucking great - if you like it. He has a sound and weaves it into his artist's records. His production work for Finley is slathered all over the work of other label mates.
3
Nils Lofgren famously wrote a song called "Keef Don't Go," where he called Keith his "main inspirer."
Join me in celebrating the inseparable connection between life + music.